Quality Waterproofing offers interior and exterior basement waterproofing solutions to keep your basement clean and dry.
Wet basements can be a major concern for many homeowners. Water infiltration problems occur when water builds up around your foundation walls or under your basement floor without a place for it to drain away. Without proper drainage, your basement will leak. We offer waterproofing solutions designed to solve all types of basement water problems.
If your basement is wet or has water, dampness, cracks, seepage or other signs of moisture, contact us for a free inspection.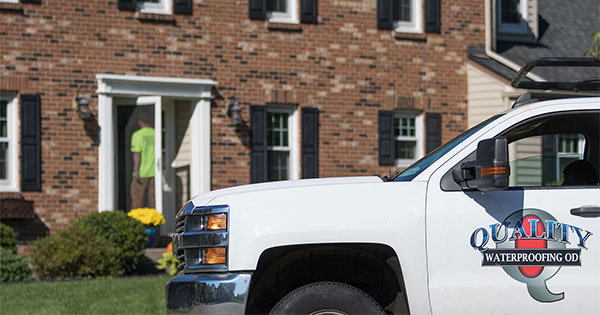 Tired of dealing with water in your basement?
Quality Waterproofing offers a wide variety of basement waterproofing solutions and techniques.  We service the greater Dayton & Cincinnati area. We'll come out to your home and assess what method will fit your needs and budget.
Waterproofing & Foundation Repair Services
Basement Crack Repair
One of the most common water problems is basements is leaking foundation cracks. The good news is our professional technicians can perform foundation crack repairs from inside your basement, without having to dig up the foundation on the outside of your home.  Read more
Interior Drainage Systems
Most basements flood at the wall-floor joint. We remedy this by installing an interior drainage system that collects water at the point of entry.  Read more
Exterior Drainage Systems
A French drain is a simple trench drain that absorbs and diverts excessive standing water or rainwater runoff. The perforated drain pipe is buried in the ground and covered with gravel. Read more
Grading and Drainage Solutions
One of the most common causes of wet basements is poor grading, which can cause the pooling of water around the perimeter of your home and the build-up of hydrostatic pressure against your home's foundation. Read more
Residential Construction Waterproofing
Quality Waterproofing provides a wide range of solutions for waterproofing during new residential construction, protecting the safety and stability of your home for years to come. Read more
Crawlspace Moisture Barriers
Do you have moisture that's keeping your crawlspace smelly, moldy and damp? This can not only cause damage to your home but to you as well. Read more
Brick cleaning and Sealing
Have some leaky bricks and looking for a quick and effective solution? We will send out a team that will have you dry and happy in no time. Read more
Window Wells & Egress Window Wells
Quality Waterproofing offers a range of window well and egress options for your home or business. Our options include Stonewells, Rhinowells, Modularwells and Mar-flex Landscapes. Read more
Masonry Tuckpointing
Do you have some bricks or stone that need a little face lift? Quality Waterproofing has you covered for all your tuckpointing needs both inside and outside your home. Read more
Concrete repairs
Cracking, crumbling or sinking concrete? Quality Waterproofing can help you will your concrete repair needs. Read more
Steel I Beams/ Steel Pins
Steel beams are another tool used to help those bowed walls in your home. These are used to give the walls stability and structural integrity. Read more
Piering/ Mass Underpinning
Quality Waterproofing offers a wide verity of foundation repair options for your home or business. We often see that older and newer homes need extra stability. Our technicians can help your falling foundation by adding piers. Read more
Your local basement waterproofing experts
If you're looking for an experienced, reliable waterproofing or foundation contractor, we will work with you until you are 100% satisfied. Schedule a quote today.